Reminder: Athletic Banquet is Tuesday May 17th at 6:00pm in the cafeteria. All high school athletes and their families are invited. Awards will be given tonight for cross-country, basketball and track.

MAP/EOC Incentive Trips to Mountain Home for bowling--Tuesday, May 17th, 6-8th graders that met all standards and received a letter inviting them will be leaving about 8:15 and return to school about 1:00. Wednesday, May 18th, all 9-11th graders who met all standards and received a letter inviting them will be leaving about 8:15 and return about 1:00. We will be paying for one game of bowling and providing lunch. If your child wants to bowl more, buy snacks, or play games at the arcade, they will need to bring money for those activities. If your child got an invitation and you do not want them to attend, please call the high school office or send the letter back signed stating that you do not want them to attend. Attendance at school is mandatory for anyone not attending the trip.

Attention Seniors! The scholarship and awards for seniors will be given out Thursday night at 5:30 in the gym. Several seniors qualified for state track and we need to move the scholarships and awards to Thursday. 8th grade promotion will start at 7 in the gym, as planned. Senior breakfast will start at 8:30 in the cafertia on Friday morning. Seniors should bring their cap and gown for the parade through the elementary. Graduation practice will follow breakfast. Graduation is at 6 pm in the gym.

Athletic Banquet Tuesday May 17th in the cafeteria starting at 6:00 pm. High school student athletes and their families please join us. Thanks

The FBLA, FCCLA, and Guild Banquet was held May 12th and was a great success. Pictured is FCCLA president Ransom Killion presenting an award to reporter Scarlet Bouchard while advisor Beth Pickle looks on. Also pictured: current FCCLA secretary and next year's president, Autumn Farel.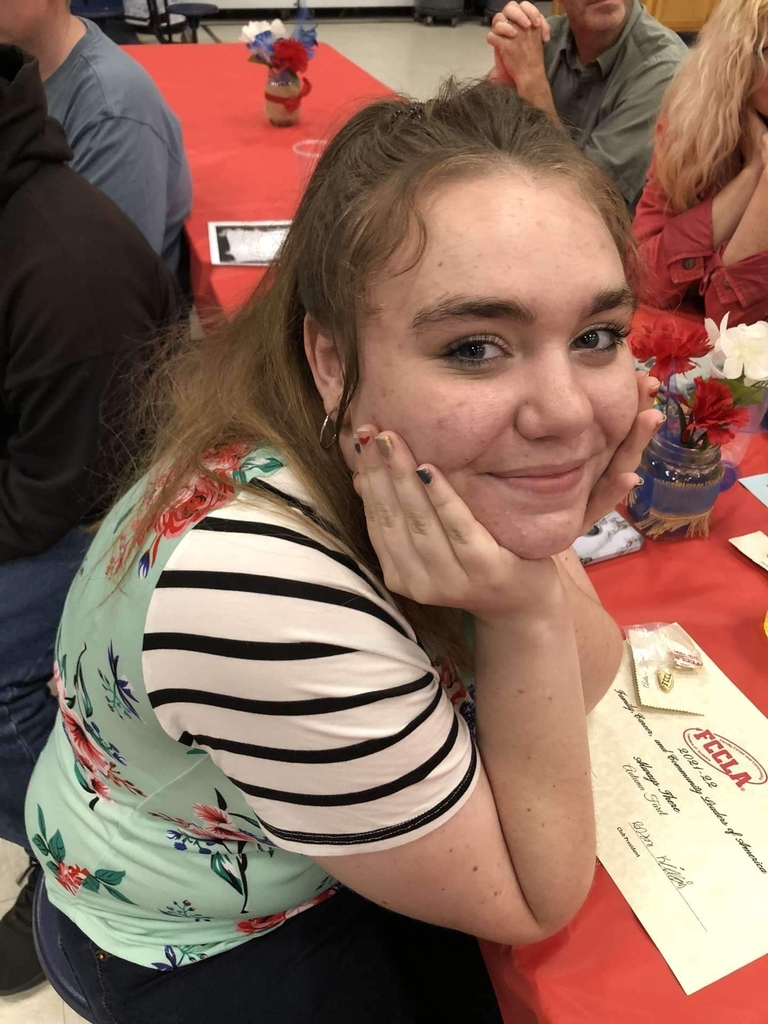 Only 2 weeks left to guarantee yourself a 2022 yearbook! Order by May 27, 2022! If we reach our goal of 150 yearbook sold by the last day of school, we will do a drawing, and one person that ordered will get their yearbook for FREE!!! (Up to $40) Send order form and money to Mrs. Scott in the library.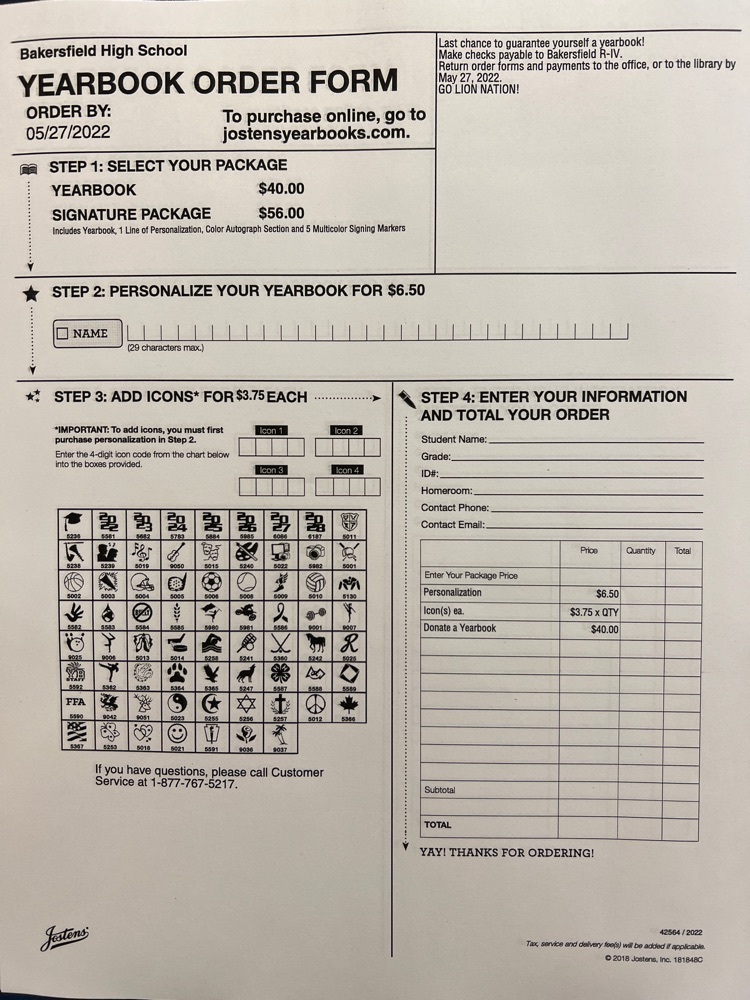 Mr. Grigg's bus will be running about 30 minutes late this evening.

May 11---Mr. Grigg's afternoon route is having a mechanical issue and will be about 30 minutes late.

The end of the year Awards Day has changed to Thursday, May 26. Middle and High School will be from 9-10 and Elementary will be from 10-11. The last day of school will be Friday, May 27 and it will be a full day as scheduled.

Join us at Pride Park for Senior Night at the High School Baseball game vs. Dora tonight at 4:30!
Parents, please make sure your students bring their library books back this week!

Correction on the Home baseball game on 5-10-22. Opponent is Dora!

Baseball will have a HOME game on Tuesday May 10th at 4:30 vs Kosh. It will be SENIOR NIGHT. Go Lions!!

Staff, don't forget the health insurance meeting at 9 in the FEMA building.

Junior high baseball and softball at Gainesville on 5-7 has been canceled.

Baseball for 5-6-22 is canceled. Field conditions too wet.

Several low water crossings will be impassable this afternoon. Some buses will run later than normal. The students who live on KK highway will be approximately 30 to 45 minutes late.

The Bakersfield High School Athletic Banquet will be held on Tuesday May 17th at 6:00pm in the school cafeteria. All athletes and their families are invited. Please plan on joining us. Recognition and awards will be given to cross-country, boys & girls basketball and track. Awards for softball and baseball will be given at a later date. Contact Coach Lansdown if you have any questions.

Baseball on 5-5-22 canceled at Mtn. View.

The Bakersfield R-IV School District is accepting bids for a 2009 Kia Sedona minivan with damage to the front right. Vehicle is being offered for bid as is. Bids will be accepted until Thursday, May 12 at 3 pm in the Superintendent's Office at 357 State Hwy O, Bakersfield, MO 65609.